BIONANA

– THE MOST FIBRANT BANANA YOU'LL EVER MEET!
All my fibers are better for our planet, better for farmers, and better for you! Join us as we start our journey.
Join us
Learn More
BIONANA

– THE MOST FIBRANT BANANA YOU'LL EVER MEET!
All my fibers are better for our planet,
better for farmers, and better for you!
Join us as we start our journey.
Join us
Learn More
Bionana can confidently communicate that we have implemented practices to reduce water waste in the growing process. We are now focusing on eliminating plastic use from the ripening process and working with our growers to make sure everything is produced at a fair price – meaning the only thing crooked or bent about the Bionana is the shape of the product!
There's still a way to go but we will make every step a greener one together!
Cultivation.
Growing bananas organically leaves a much smaller footprint on our vulnerable planet than conventional cultivation. You can immediately see this difference when you enter the plantation. To protect the harvest, white plastic bags are used in organic cultivation. The content of this: natural disease fighters such as garlic and chili. In conventional cultivation they are blue bags, containing synthetic chemicals. In conventional cultivation, liquid synthetic fertilizer is used that washes away immediately when it rains – ending up where it shouldn't be. People try to avoid this by placing stones under the plants. This is not necessary with organic practices, as we use the fallen banana leaves under the banana trees, along with natural fertilizers (biol), in a solid form, to ensure the soil is sufficiently fertile.
Biodiversity.
The organic plantation sets in motion many ecosystems and is a center of life. How? To combat harmful fungi on the plants, fungi are used that are good for the plant, grown from bacteria and natural raw materials. And because of the use of all natural raw materials, much less nitrogen is released into the air during irrigation. That is good for not only the plants themselves, but also for the ecosystem and the local animals and inhabitants.
Cooperation Banamiel.
We partner with Banamiel, an organization in the Dominican Republic that is 100% locally owned. No crazy antics with large foreign investors taking control from the sidelines, but Banamiel in full control. It is a cooperative, in which the participating plantations collectively manage the day-to-day business of the company. It does not matter how big or how small the plantation is: everyone has their voice. It is the quality that counts.
Social equality and pricing.
Within the organization, diversity and empowerment are also high on the agenda, and successfully achieved. Managerial positions are split 50/50 between men and women and 60% of middle management positions are fulfilled by women – unique to the Dominican Republic. In Bionana's (BioRey) partnership with Banamiel, the focus is on a fairer price for (small) growers: a continuous process in which far-reaching steps have already been taken.
Amazing taste.
Bionana's taste the way bananas should – just as nature intended! Organic bananas grow entirely on the power of mother earth. This might be seen as a slower process compared to conventional cultivation, but don't worry. The longer it takes for a banana to be ready, the longer they hang on the tree, and in return, the more delicious they taste.
Size does matter.
Some say that size matters, when it comes to produce, a smaller product is packed full of goodness and no excess … for the sake of showing off. So very suitable for everyone, even children, whether you're looking for a small snack between meals or an energy boost anytime of the day.
WE LIKE TO KEEP
THE LINES SHORT.
This way, every link of the chain receives the right value for the work produced, and together, we are always on top of quality. Once ready for harvest the Bionana journey looks like this: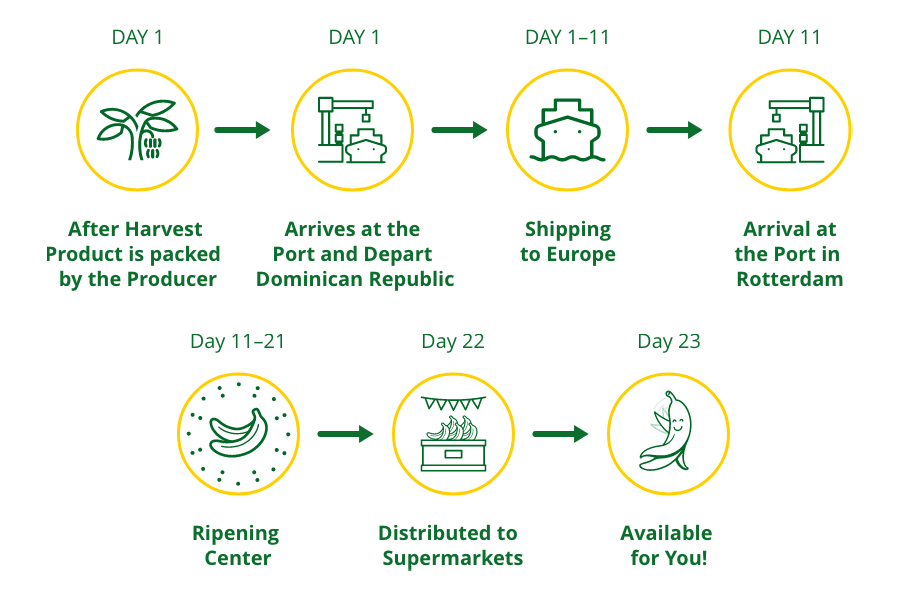 This short chain, from plant to store in 24 days, means we can supply bananas as fresh as possible and also all year round! The Dominican Republic is located on the equator, so there are warm tropical conditions all year round and sufficient light. The Dominican Republic is also the last stop from Latin America to the port of Rotterdam. Therefore Bionana's travel from the plantation to the shop shelf in a short as possible time. This shorter travel time benefits the taste and thanks to cooperation Banamiel's  and Bionana's smart planning, a constant year-round supply is possible
We have a lot of great insights and content as we make this journey. Give us a follow and together let's make every step a greener one!
This error message is only visible to WordPress admins
There has been a problem with your Instagram Feed.